Improve your life with Mr. Bubble?  How can you do that?  This article will explore everything you need to know about the product called Mr. Bubble.
A Bit of History
Originally made by the Gold Seal Company in North Dakota in 1961, the product changed hands a few times.  It is now owned by The Village Company.  For a product that is over 60 years old, it is still going strong.  It was originally a powder then developed into a liquid.
In 2010 it was distinguished as the best selling bath product for children.  There is a lot more competition now, but the product has adjusted to the times with additional products in the line of Mr. Bubble.
Their tag line in the 1960s was "Almost as much fun as getting dirty".  Which is a great line, don't you think?  Because children do love to get dirty; it's part of being a kid.  And if getting clean can be just as fun, who wouldn't want to get clean?
Here's the ad from the 1980s.
What Are the Ingredients in Mr. Bubble?
The ingredients listed on the bottle of Mr. Bubble are: 
Water, sodium Laureth Sulfate, Sodium Laureth Sulfate, Cocamidopropyl betaine, sodium chloride, PEG-80 sorbitan laurate, Aloe Barbadensis Leaf Juice, tocopheryl acetate, PEG-150 distearate, citric acid, Tetrasodium EDTA, Ethylhexylglycerin, sodium benzoate, phenoxyethanol fragrance, Red 33.
My research found that Sodium Laureth Sulfate has been linked to be contaminated with carcinogenic properties.  However other research states this may not be the case.  Follow your conscience regarding this.  For a detailed discussion, see this article from the NIH. 
It claims to be paraben free.  Parabens are chemicals that act like the hormone estrogen.  They were once used as preservatives in cosmetics.  So nobody wants hormones swimming around in their bathtub!  Especially with children bathing in it.  
The rest of the ingredients are mostly surfactants or emulsifiers which make the product gooey and thick.  
Is Mr. Bubble Safe?
The overall opinion is yes, it is.  On the website, skinsafeproducts.com, gives Mr. Bubble Foam Soap a 91% Top Allergen Free rating.  Furthermore, it won't irritate the eyes, which is always a concern with kiddos in the tub.  
If swallowed, it is non-toxic, i.e. non poisonous.  But swallowing it is not recommended!  However, I imagine we have all had soap in our mouth.  So it is reassuring to know we won't die if we ingest some.
On the other hand, according to American Family Physician, bubble baths may cause urinary tract infections (UTIs).  Females are more prone to these infections than males.  I recommend you use bubble bath sparingly when bathing your kids.  Also make sure your children are well hydrated to encourage urination.  
For more on safety, read my article How To Be Safe in the Bathtub.
How did Mr. Bubble get its name?
I couldn't find the answer to this burning question.  At least it was burning in my mind.  However, apparently the inventor, Harold Schafer, was referred to as Mr. Bubble.  His vision was to provide an affordable bubble bath for the enjoyment of children.  
I like the idea of a man that was so excited about bubble baths that he gave out free autographed boxes back in the day.  
But I was unsuccessful in tracking down exactly where Mr. Bubble got its name. if you want to investigate more about Mr. Bubble and The Village Company, click on that link.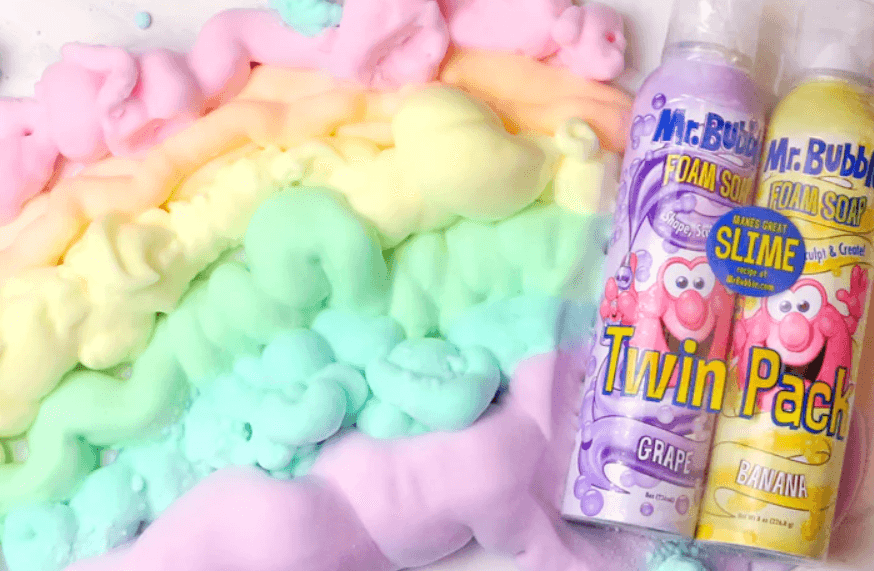 What Does Mr. Bubble Smell Like?
The original liquid smelled like bubble gum!  What a great idea for kids to enjoy.  I imagine children would love to go to bed smelling like bubble gum.  
Now there are several more products in the line, there are several more fragrances to choose from.  Those include, but are not limited to: Cotton Candy, Grape, Birthday Cake and Orange Cream.  
These sound like fun fragrances for your children, so check them out!
Science Included! (If you want to take the time.)
Mr. Bubble claims to stimulate conversation about science, specifically chemistry.  Things like surface tension, elasticity, and light are topics to discuss.  Physicists study bubbles!  What causes a bubble to form?  What happens when it pops?  Why does it float? 
Your children may come up with more questions than you have answers for.  That's usually the case, isn't it?  So taking a bubble bath may lead to an education!  Who knows, you may foster interest in science!  
Qualities I Like About Mr. Bubble
Review these factors when you decide about a bubble bath product for your children. Mr. Bubble:
Cleans the skin
Makes lots of fun bubbles
Is fun to bathe in
Smells good
Teaches about science (if you put in the effort)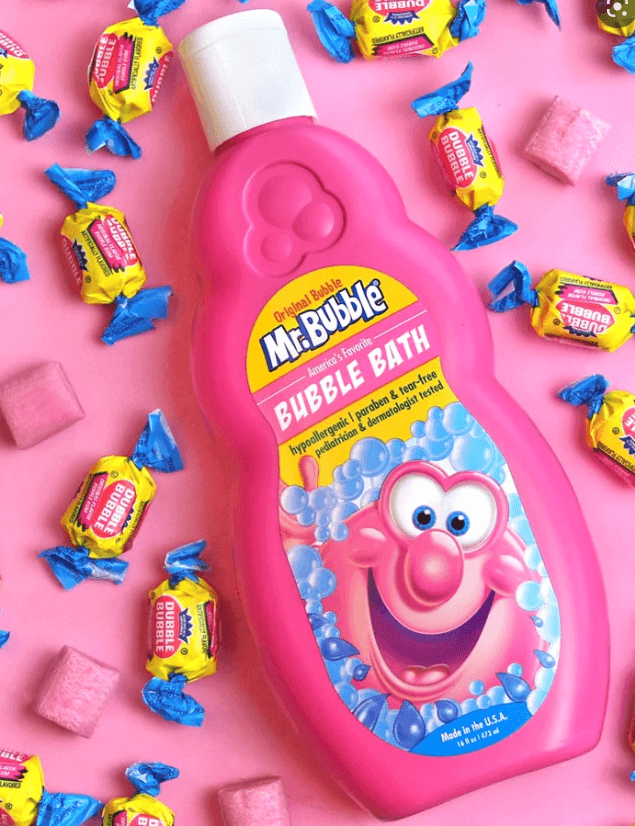 What Products Does Mr. Bubble Make?
The Village Company has an extensive line of fun products for children in the Mr. Bubble category.  
One is Foam Soap which comes out in a foam that is colored and the kids can use to make shapes on the tub.  
Another is called The Ultimate Pack of Bath Time Fun that includes Mr. Bubble's Scientific & Terrific Bath Potion, Bath Bomb Fizzer, Gooey Soap Stickers, and a 2.5 Oz bottle of Original Bubble Gum bubble bath.  
The aim with the Mr. Bubble products seems to promote fun and learning in the bathtub as you get clean.  I really like that kids are learning while they have fun.  
They also feature many other bath products for everyone.  Here is a link to their website; The Village Company.  
Or you can order from Amazon through this link. I will receive a small referral fee if you buy through this link.
Is Mr. Bubble for Kids Only?
All Mr. Bubble products are geared towards children.  But The Village Company makes other bath products, many of which are specialized for different issues.  There is a Foaming Bath Oil and Body Wash for Chronic Pain and Fatigue.  Or a Cold and Allergy Bubble Bath that produces powerful vapors that should clear your sinuses.
There are many other products available, and I recommend a visit to their website. 
Conclusion
Have you used Mr. Bubble?  What was your experience?  All thoughts are welcome here.  Also, if you have questions, please leave them below.