3 Reasons to Use Aloe Vera in Your Bath discusses why aloe vera is good for your skin. Products types include soap, bath gel, bath bombs and soaks.
Introduction
Aloe Vera as a skin care product became popular in California when I was a teenager.  I tend to burn when everyone else is getting a tan, so I needed something to relieve the pain.  And aloe vera did that for me.  Not only did it provide pain relief, but it aided in the healing of the damage I did to my skin.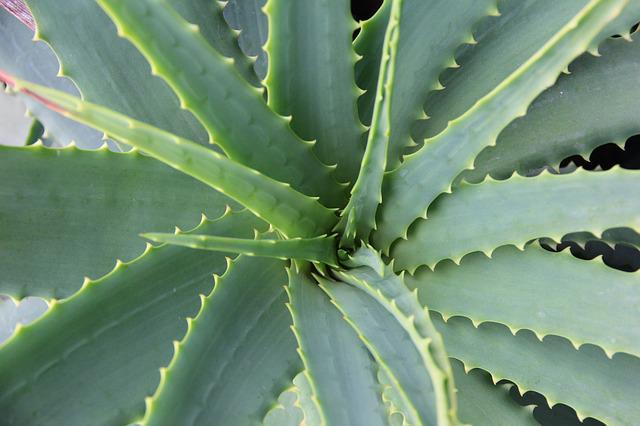 Now I read that it has many other health benefits, including a great addition to your bath!  Let's find out why you might want to add aloe vera to your bathing routine.
What is Aloe Vera?
Aloe vera is a succulent plant which often has thick leaves that are storing water in them.  This is because they grow in hot dry climates, and the leaves store water in the dry season.    
In the case of the aloe, the water is stored in long leaves that are serrated on the outer edges.  When you cut open an aloe vera leaf, you find a slimy clear "flesh" which we now know has medicinal benefits.  
These plants grow well here in southern California, and propagate easily.  If you want to use these plants for your skin, it is wise to have a few plants on hand so you can rotate cutting them.  Aloe vera should not be watered too much, my research says about every three weeks.  To test if you need to water, push your finger into the soil about two inches down.  If it is dry, then water.  Also, water it deeply when you do water it.
Why Is Aloe Vera Good for Your Skin?
The juice of the aloe vera plant contains many helpful properties.  These include antioxidants, anti-inflammatories, Vitamin A, and Vitamin C.  These can nourish your skin as well as relieving the pain of burns or scrapes.  
Antioxidants fight oxidation, which is how our cells break down.  Therefore it can aid in cell repair, which is especially true in the case of wounds.  The anti-inflammatory property of the plant can fight inflammation in the skin.  This is due to the Vitamins A and C.
So the three reasons aloe vera is good for your skin is because it can:
Heal wounds
Reduce pain
Soothe dry and itchy skin
A word of caution:  Overuse of aloe vera can exfoliate the skin to an unhealthy extreme which may then lead to irritation.  As with many skin care products, you should use any aloe vera product with moderation.  
Another caution is to be careful using it as a lubricant or healing agent around your private areas.  Use only 100% gel for this.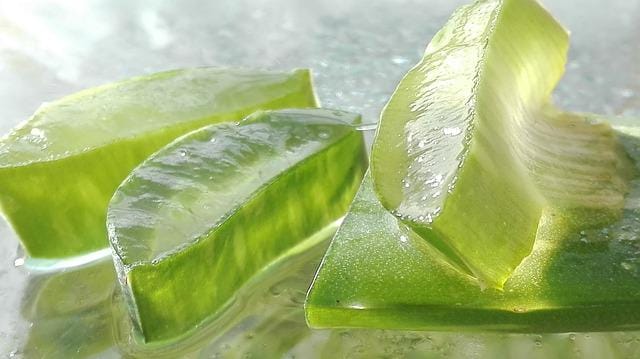 What Aloe Vera Products Are Available?
I spent time researching how best to use aloe vera in the bath.  I was at a loss to find how one can actually use aloe vera juice or the "flesh" in the tub.  All I could come up with was the products listed below, some of which are specifically made for bathing.  
Bath and Shower Gel
This format contains some other ingredients that make it soapy and less sticky.  The recommendation is to use a loofah, or a scrubbie or washcloth, and put some of the gel on it.  Gently massage into the body.  Rinse.
The results are that you will cleanse your body and also moisturize and hydrate your skin.  And in most of the products you have mainly natural ingredients, i.e. aloe vera.  
I do advise that you read all ingredients carefully.  Obviously the less additives the better.  As always, if you have sensitive skin, check with your doctor if you are concerned about any reaction.
Aloe Vera Powder
This is used to make many products with aloe vera, including cosmetics, hair products, and cleansing products.  
For bath purposes, it is put in bath bombs, soaps and massage oils.  
Bath Bombs
I have reviewed bath bombs in this article: What Is The Insider's Guide To Bath Bombs?  A bath bomb made with aloe will certainly promote soft skin and relieve itchy burns and scrapes.  
But my primary concern with bath bombs is the added fragrance, and coloring, which may cause reactions in some people.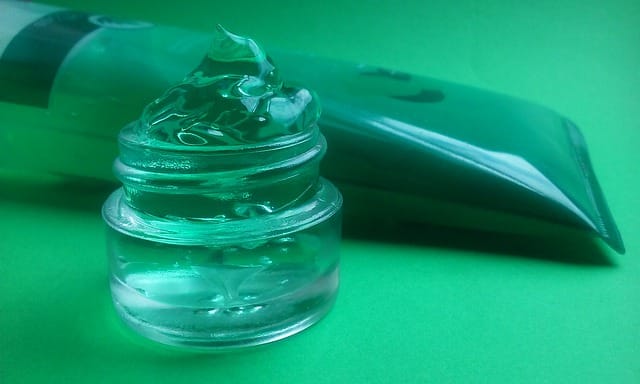 Aloe Vera Juice
We all know that aloe vera juice is a product that can be consumed.  I am not recommending that here, and hope you research drinking it before you do so.  But I would imagine there would be benefits from pouring a cup of it in your bath water.  
Or just pouring it into a washcloth and rubbing it on your skin would provide benefits as well.  Aloe vera has also been indicated in treating acne.  I found several testimonials of people that stated aloe had cleared up their skin.  
Aloe Vera Soap
There are several options available to purchase aloe vera soap.  Some complaints are that, depending on the ingredients, it doesn't lather.  This would include the types that have glycerin in them.  
If you want lather, you should look for products containing sodium laureth sulfate, sodium lauryl sulfate or coco-glucoside.  
Here is a video of how to make your own aloe vera soap. 
I researched sodium hydroxide, which is what the person in the video uses.  It is actually a caustic substance, but apparently when used in small amounts, is safe for use in soap.  
Aloe Vera Bath Soak
Another type of bath is a bath soak.  Basically you are adding ingredients that are probably in a bath gel, soap, or bath bomb.  But without ingredients you may not want in your bath.  I think I should research this topic more, as it seems like a more natural product to use. 
If you check out my article on oatmeal baths, (Why You Should Take an Oatmeal Bath for Itchy Skin) you might consider adding a few tablespoons of aloe vera gel to the oatmeal.  This should provide you with a very skin healing bath experience.
Conclusion
Have I covered all your questions about aloe vera in your bath?  I hope so.  I also hope you try taking a bath in some aloe and let us know what your experience was.  Leave comments and questions below, please.