I have an unusually shaped tub.  So the standard bathtub caddy won't fit my tub.  Therefore, I decided to search for unconventionally built caddies.  That search led to this review.  Perhaps you too have an unusual bathtub.  Or the ones that fit across the tub don't fit your needs.  Whatever has brought you here, it is my hope that this review will assist you in finding just the right caddy.  
Why Do You Need A Bath Caddy?
Basically you need a bath caddy because you want to do more than just bathe or soak in the tub.  Personally, I don't want to be doing much more than soak for a bit, and get clean.  But I do like to read sometimes.
However, apparently many people like to do more than that.  From the advertisements I see it looks like people like to: burn candles, drink wine, eat fruit, and use an electronic device.  (Eek; use electronics while in the bath?  No thanks, I'd be so afraid of dropping it in the water and destroying it.)
Some people use the caddy to store needed products for their bath like soap, shampoo, and shower gel.  This is a great asset if you have very limited space in your tub.  
Why Is It Called A Caddy?
The definition of caddy is a small container.  What it really is is a tray.  I guess the bath accessory people wanted a fancier name than tray.  It does qualify as a small container though since it holds items.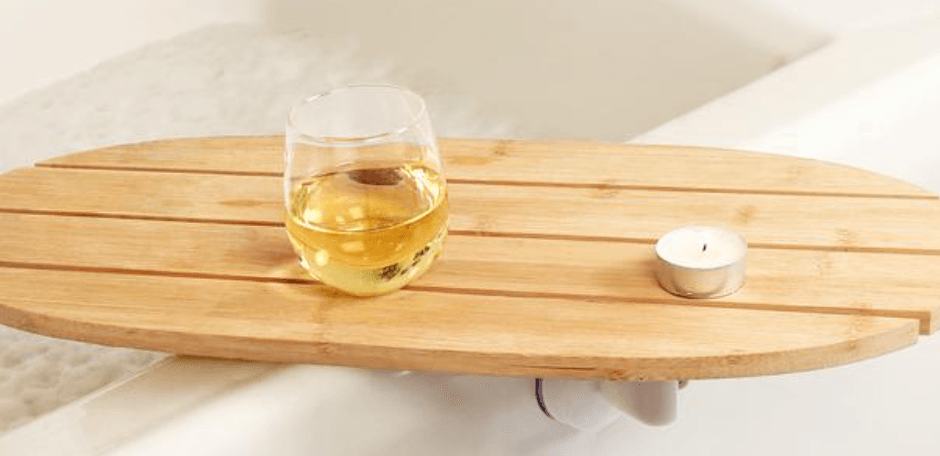 I Present Three Bath Caddies That May Work For Your Atypical Bath
To be honest I was surprised at the limited options available to those of us with odd shaped bathtubs.  So I have listed the three I did find.  Click on the Name to go to the website where you can purchase them.
At this time I do not have an affiliate link so I do not receive any fee for recommending these or linking you to their website.  The links are provided merely for your convenience.  
| | | | |
| --- | --- | --- | --- |
| | Kikkerland Bath Caddy | AquaReader Floating Tray | Life Tray Table |
| Who It's For | Adults who want to enjoy a drink while bathing.   | For those that want to read a book or use an electronic device. | Made mainly for spas, but I think would work for bathtubs. |
| Best Feature | Pretty design. | Sturdy holder for book or device. | Appears very stable. |
| Pros | Swivels. | Right in front of you. | Least expensive of the three. |
| Cons | Some assembly required for suction cup. | Not stationery. | Not big enough for a book. |
| Price | Around $50 | Around $44 | Around $33 |
Note:  None of these made the top best sellers on Amazon.  I guess those of us with non traditional tubs don't rate a ranking. 
Of the three, I think I like the Kikkerland the best. It is classy and functional. Here's their informational video.
Before You Buy
Some suggestions that you should consider before you make a purchase are: 
What is the main function you are looking for?  As you can see The Life Tray won't really work for reading.  And the AquaReader holds only a book or device.
Make sure of the dimensions.  Will it fit your space?  Is it too big, or not big enough?  
Calculate the grip width.  Does it accommodate your tub's edge?  Having an uncommon shaped tub means you probably have unconventional measurements.  Unfortunately for me, none of the grippers are big enough.  
Will it hold the items you want it to hold?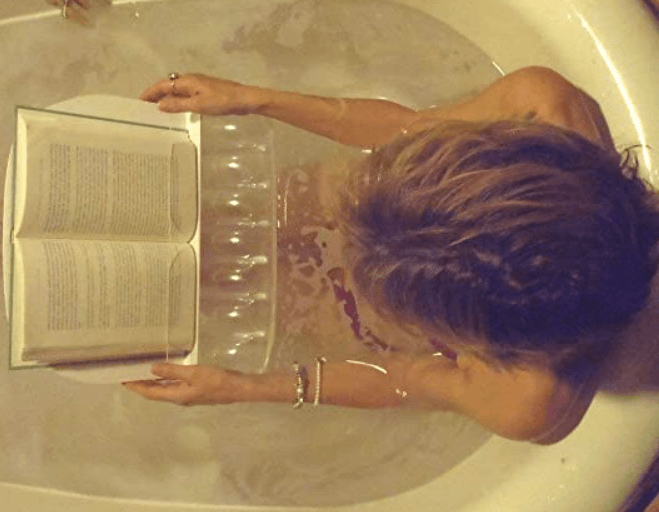 I found an article that is funny from Bored Panda about what manufacturers think we women want in a bathtub tray.  I recommend you check it out.  It's worth your read.  I guarantee you will laugh.  Click here.
Other Options
In my search I found other options that may serve your purposes.  However, they are not in a tray form and therefore are more functional as a storage unit.  See the following categories.
Standing Bath Caddy
These are mostly shelves made of wood or plastic or metal.  They may be freestanding or can fit in a corner of your tub.  Depending on the style, these can be very attractive and a nice addition to your bathroom.  But they are only for storage.  
If you are interested, here's a link to my Google results for this type of caddy.
Portable Bath Caddy
These are popular with college students when you have to share a bathroom.  They hold all the products you might need for your bath or shower.  Most are made of plastic and have nice large compartments to hold bottles, towels and other bathing items.  
My search found these items at this link.  
Hanging Shower Caddy
These caddies are really only functional for showering, as they have a hook that hangs from the shower head.  They also come in metal, plastic or wood.  And are only for storage.  Here is the result of my search on Google; click the link.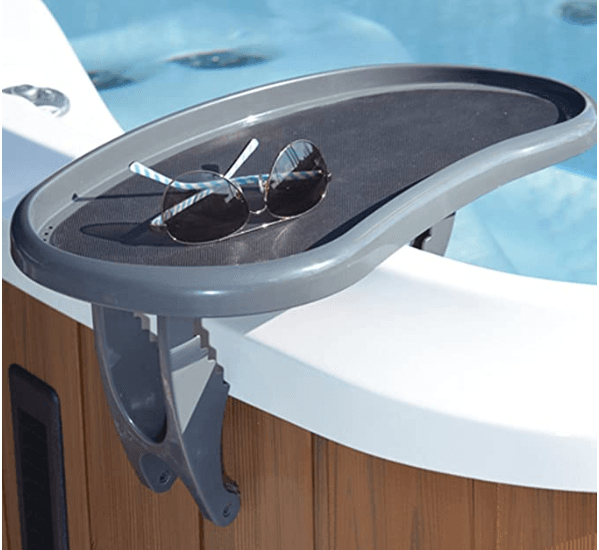 A Word of Caution
No matter what you chose for your bathing experience, safety should be your first priority. I am dubious of drinking alcohol in the tub, simply because it can affect your balance. You may already be lightheaded from the warm bath; add alcohol and that is magnified. Please be careful! I wrote an article on on this. Click on the title. How To Be Safe in the Bathtub.
Conclusion
I am discouraged that there are very few options for those of us with unconventional bathtubs when it comes to bath caddies.  Seems like this is a marketing opportunity for someone!  
But what do you think?  Do you have other suggestions?  Please leave a comment or question to help all of us find a bath caddy that fits our unusual bathtubs.