A true loofah is derived from a plant referred to as a luffa gourd, which grows a fruit that looks much like a cucumber.  If the fruit is allowed to dry on the vine, its fibrous structure produces the sponge like loofah.  
It retains the shape of a tube, with fibrous cells which makes it look like a sponge if you slice it at the width diameter.  
These are then cut into hand size to be used to bathe.  They hold water and soap to create soapy suds.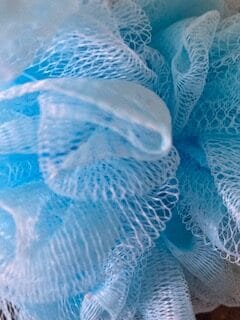 Nylon poofs (poufs) or scrubbies are also called loofahs by some people, but for my purposes, I am only calling the plant type a true loofah.  These nylon ones are softer and may be better for people with sensitive skin.  
Why Use a Loofah?
People use a loofah to exfoliate dead skin.  The rough surface can scrub away dry skin cells and leave the skin refreshed.  The roughness can also stimulate circulation, which helps in healthy skin cells.  
With a loofah you are probably washing away bacteria and other nasty compounds on your skin.  I use it to scrub my dry skin.  
Your skin should feel invigorated after a scrub with a loofah.  
Are There Different Types of Loofahs?
There are two species of the gourd that are used for loofahs.  One is called luffa acuntangular which is referred to as smooth luffa.  The other is called luffa aegyptiaca that is named angled luffa. Again for our purposes, we call both these loofahs, as their properties are similar.
The most common loofah is the sponge type that is usually hand held or on a long handle. It is made from the plant gourd that I mentioned above.  If it is on a long handle, it is glued to the handle.  This is what I use to wash my back.  
There are also facial loofahs, which are pads made from the same gourd that can be used for cleansing the face.  These small pads are about ½" thick and about 3" in diameter.  They can be used the same as a loofah except that you are scrubbing a smaller area.  
Then there are also loofahs that contain soap.  Or soap that has a loofah in it.  Who knew?  
Or there are soaps with a small loofah molded right into one side of the soap.  You can soap up then scrub with the loofah. And there are loofahs that are attached to a scrub pad, so your hand doesn't actually touch the loofah.  
It seems entrepreneurs have thought of every way to use a loofah.  
Here's a video of a woman that made her own soap loofahs.  
Best Soaps Or Body Scrubs For Loofahs
There doesn't appear to be a best soap or body scrub recommendation.  Loofahs can handle bar soap or a shower gel.  You don't have to use very much of either because the loofah does suds up very nicely.  
If you have sensitive skin, or are concerned about dry or itchy skin, I did some research on oatmeal baths in my article Why You Should Take an Oatmeal Bath for Itchy Skin.  Oatmeal is a calming and soothing product that is very good for skin.  
How Often Should You Use a Loofah?
It is recommended that you use a loofah only twice a week.  Using it more than that can irritate your skin and cause other problems.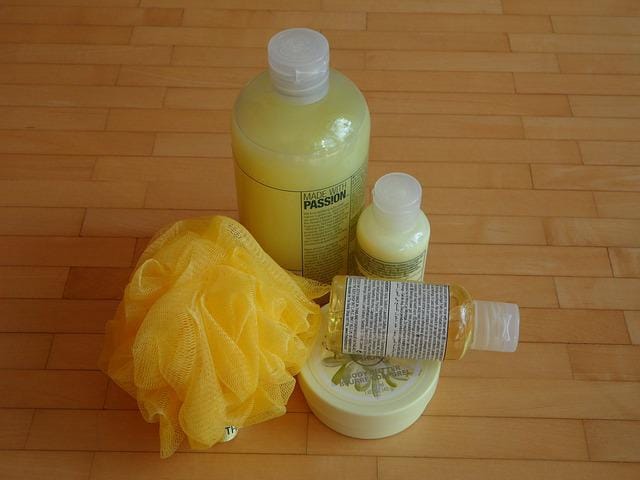 Are Loofahs Unsanitary?  Or Are They Bad for Your Skin?
Most dermatologists don't use loofahs.  And especially not on the face. They state that if you have a skin condition that builds up dead cells, you may use a loofah, but only twice a week at the maximum.  
Loofahs will harbor bacteria, so it is imperative that you replace them regularly.  If you don't want to, then you should put it in water that has been boiled.  As soon as the water boils, take it off the stove and put the loofah in for 3 minutes.  Carefully remove and let dry.  You should do this after every use.  
I have read that soaking in water and tea tree oil will also kill bacteria.  Let it completely dry.  
Cautions For Using A Loofah
Those of us that have sensitive skin, should be careful what we put on it.  The loofah has an abrasive surface, and therefore can irritate some individuals.  If you have sensitive skin, you may want to reconsider using a loofah.  
Always clean your loofah after each use.  Don't overuse it; at the most use it two times per week.  
Conclusions
Now that you know the benefits and as well as cautions, weigh the pros and cons of using a loofah.  Personally, I won't be using mine as much as I have been, and I am going to go clean it right now!
However, if you want a natural product to exfoliate your skin, then a natural fiber loofah is the way to go.  Either way, test it to be sure it doesn't irritate you.
Your comments and questions are valuable.  Leave them below.